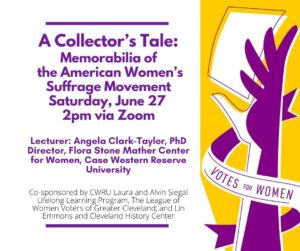 A Collector's Tale: Memorabilia Of The American Women's Suffrage Movement
Saturday June 27 at 2pm via Zoom
Talk by: Angela Clark-Taylor, PhD
Director, Flora Stone Mather Center for Women
This lecture will utilize artifacts and ephemera from the American Women's Suffrage Movement and the Anti-Suffrage Movement to provide a brief history of women's suffrage and the memorabilia suffragists created to develop a mainstream market appeal for their movement to the American people.
The lecture is free and open to the public.
Made possible with a generous donation from Lin Emmons.

Co-sponsored by CWRU Siegal Lifelong Learning, The League of Women Voters of Greater Cleveland, and the Western Reserve Historical Society Cleveland History Center.