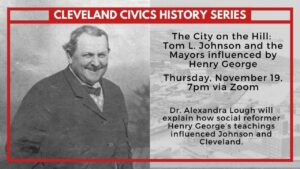 The City on the Hill: Tom L. Johnson and the Mayors influenced by Henry George
Thursday, November 19, 7pm
A talk by Dr. Alexandra W. Lough, author of The Last Tax: Henry George and the Social Politics of Land Reform in the Gilded Age and Progressive Era
Cleveland during the period of Mayor Tom L. Johnson (1901-1909) was considered by many to be one of the best governed cities in the nation. But Johnson was just one of several mayors who were followers of the 19th century political economist and social reformer Henry George. Dr. Alexandra Lough will explain how the teachings of Henry George influenced Tom L. Johnson's mayoralty in Cleveland.
The video is here

This series is cosponsored by Cleveland History Center, CWRU Siegal Lifelong Learning and the League of Women Voters of Greater Cleveland
Photo: Cleveland Press Collection