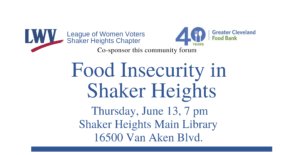 Food Insecurity in Shaker Heights
How big is the problem? What are we doing about it? How can we do better?
The flyer is here

The slides from the talk by Loren Anthes are here
Forum write up by Ryan Brady
Thursday June 13, 2019 at 7pm
Shaker Hts Public Library Main Branch
16500 Van Aken Blvd. 44120
Hunger is a growing problem in Shaker Hts that is estimated to impact over 5,000 residents yearly including children, adults and seniors. What are we doing to make sure every person has access to the food they need? How can we do better?
Learn from experts, city representatives and volunteers. You can be part of the solution in Shaker Hts.
Panelists will include
•Loren Anthes, The Center for Community Solutions,
•Kimberly LoVano, Director of Advocacy & Public Education Greater Cleveland Food Bank,
•Nancy Moore and Trey Roeder, Shaker Heights City Council,
•Representatives Little Free Pantry in Shaker Hts.
Cosponsored by The League of Women Voters-Shaker Chapter and the Greater Cleveland Food Bank
Links to the organizations mentioned in the forum:
Center for Community Solutions Research in Cleveland
Cleveland Foodbank Call for Advocate Assistance
Cleveland Foodbank Help Center
Heights Christian Church Community Meal
Little Free Pantry of Shaker Heights
City of Shaker Heights Senior Services