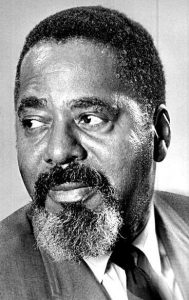 George Anthony Moore
GEORGE A. MOORE, TV PIONEER, DIES AT 83 Obit Plain Dealer 3/1/1997
George Anthony Moore was a trailblazer who broke down racial barriers in education and journalism and helped create the new medium of live television.
Moore was recruited in 1947 to work as a producer for WEWS Channel 5 when it became the state's first television station to go on the air. He was responsible for the "One O'Clock Club," a variety show on which Dorothy Fuldheim interviewed celebrities such as Helen Keller, the Duke of Windsor and ac trss Gloria Swanson.
Moore was the first president of the Catholic Interracial Council of Cleveland and received the highest award of the National Catholic Conference on Interracial Justice.
"He was a man of deep faith who was interested in bringing people together as sisters and brothers in a lasting godly way. It was his life's work," said Sister Juanita Shealey, current head of the Interracial Council.
Moore was also a newspaper reporter, a college teacher and owner of a public relations firm.
Moore was most recently a resident of the Margaret Wagner nursing home in Cleveland Heights. He died yesterday at Mt. Sinai Medical Center. He was 83.
He was born in old Lakeside Hospital in downtown Cleveland. When his mother attempted to enroll him in St. Ignatius High School, she was told that no Jesuit school in the country admitted black students. He was allowed in after the bishop of the Cleveland Catholic Diocese intervened.
Moore attended Ohio State University, where he roomed with Olympic hero Jesse Owens, then earned a master's degree in theater at the University of Iowa.
Moore did not participate in athletics because of a severe leg injury he suffered while playing sandlot football as a child. He walked with a limp for the rest of his life.
He was hired as a reporter in 1942 by Louis Seltzer, editor of the Cleveland Press, at a time when no daily paper outside New York City was known to have blacks on its staff.
Moore wrote an expose of supermarkets that sold spoiled meat in inner-city neighborhoods. He was hospitalized for treatment of his leg injury after the series started, but he continued writing from his hospital bed.
"I had to go to the hospital each day to pick up his copy," said Donald L. Perris, who was a copy boy at the Press. Perris later became the station manager at Channel 5 and retired as president of Scripps Howard Broadcasting Co.
"George was the best man at my wedding. He got me my job at the television station," Perris said.
Moore was hired by Channel 5 because of his combination of news experience and training in theater. He had formed the Ohio State Playmakers, a drama group for minorities, while at OSU.
The "One O'Clock Club" became one of the most popular shows on local television during the 11 years Moore produced the show.
Moore deftly handled the world figures and performers who appeared, many of whom had fragile egos.
"He told them where to sit, when to speak and when to be quiet," Perris said.
Moore was also involved in numerous civic affairs. He was an associate director of the northern Ohio region of the National Conference of Christians and Jews when he made his first trip to Africa in 1966.
Along the way he stopped at the Vatican and met with Pope Paul VI, whom he invited to Cleveland.
In Africa, Moore was given a cannon salute in the village of a former John Carroll University student who had stayed at Moore's Cleveland Heights home. Moore was the founder of Friends of African Students in America.
In the 1960s and 1970s, Moore taught theater classes at Cuyahoga Community College.
Moore also wrote a regular column for the Cleveland Press for many years and appeared as a regular panelist on the "Black on Black" interview show on Channel 5.
He organized George A. Moore & Co., a public relations firm with offices downtown, in 1970.
As he grew older, he became less involved in public affairs. But he was in the news in 1994 when he lost his home in Cleveland Heights because he no longer had the funds to take care of it. He had rejected efforts by friends to help him get into a nursing home and insisted on remaining in the house long after his health did not allow him to take care of it.
The publicity generated an outpouring of support. He was subsequently honored by the National Association of Black Journalists, the African American Archives Auxiliary of the Western Reserve Historical Society and other groups.
No immediate family members survive.
Services for Moore are being arranged by the House of Wills Funeral Home of Cleveland.