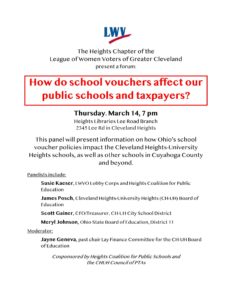 The Heights Chapter of the League of Women Voters of
Greater Cleveland present a forum:
How do school vouchers affect our
public schools and taxpayers?
Thursday. March 14, 2019, 7 pm
Heights Libraries Lee Road Branch
2345 Lee Rd in Cleveland Heights
The flyer is here
Here is the video from the forum

This panel will present information on how Ohio's school voucher policies impact the Cleveland Heights-University Heights schools, as well as other schools in Cuyahoga County and beyond.
Panelists include:
Susie Kaeser, LWVO Lobby Corps and Heights Coalition for Public Education
James Posch, Cleveland Heights-University Heights (CH-UH) Board of Education
Scott Gainer, CFO/Treasurer, CH-UH City School District
Meryl Johnson, Ohio State Board of Education, District 11 Moderator:
Jayne Geneva, past chair Lay Finance Committee for the CH-UH Board of Education
Cosponsored by Heights Coalition for Public Schools and the CHUH Council of PTAs