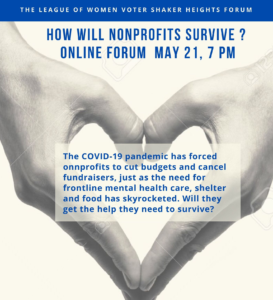 How will some of Cleveland's most critical non profits survive Covid-19?
How will nonprofits that serve the most vulnerable communities recover following the COVID-19 pandemic?
Nonprofits have had budgets cut and had to cancel fundraisers, just as the need for front line mental health care, shelter and food has skyrocketed. Will they get the they need to survive?
Virtual Forum
Thursday May 21 7pm
The forum write up/summary is here: by Briana Oldham
The video is here:

•Emily Campbell, Assoc Director, Center of Community Solutions
•Melissa Graves, Chief Executive Officer, Domestic Violence & Child Advocacy Center
•Sondra Miller – President and CEO, Cleveland Rape Crisis Center
•Cynthia J. Ries, Exec Director, Greater Cleveland Community Shares
Moderated by Rachel Dissell, journalist and former Plain Dealer reporter
Sponsored by LWV of Greater Cleveland-Shaker Hts. Chapter and Hey Shaker