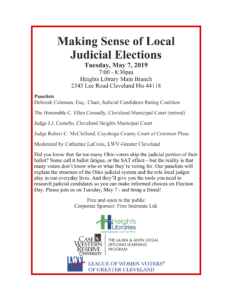 Making Sense of Local Judicial Elections
Tuesday, May 7, 2019
7:00 – 8:30pm
Heights Library Main Branch
2345 Lee Road Cleveland Hts 44118
The flyer is here
The handout from the forum is here
The video is here

Panelists
Deborah Coleman, Esq., Chair, Judicial Candidates Rating Coalition
The Honorable C. Ellen Connally, Cleveland Municipal Court (retired)
Judge J.J. Costello, Cleveland Heights Municipal Court
Judge Robert C. McClelland, Cuyahoga County Court of Common Pleas
Moderated by Catherine LaCroix, LWV-Greater Cleveland
Did you know that far too many Ohio voters skip the judicial portion of their ballot? Some call it ballot fatigue, or the SAT effect—but the reality is that most voters don't know who or what they're voting for. Our panelists will explain the structure of the Ohio judicial system and the role local judges play in our everyday lives. And they'll give you the tools you need to research judicial candidates so you can make informed choices on Election Day. Please join us on Tuesday, May 7 – and bring a friend!
Free and open to the public
Cosponsored by
Siegal Lifelong Learning Program at Case Western Reserve University
League of Women Voters of Greater Cleveland
Cleveland Heights-University Heights Public Library
Corporate sponsor: First Interstate Ltd.