Ohio county was poster child of voter fraud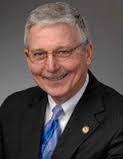 by Michael F. Curtin
President Donald Trump cannot suppress a primal urge to fume over voter fraud.
Nearly everyone with expertise in elections, to say nothing of psychotherapy, sees emotional need shouting over the hard evidence.
To find widespread voter fraud, on the scale alleged by Trump, we need to turn back the clock a century or more.
There was no better place to find it than in Ohio. And here, no better place than in rural, southern Ohio – especially Adams County.
The 1890s marked the height of boss rule and machine politics in Ohio. In that era, the most common form of voter fraud was the outright buying and selling of votes. In the saloons and betting parlors of Cincinnati, Cleveland and Columbus, a man easily could pocket a few dollars by promising a precinct committeeman to vote the right way in an upcoming election.
The practice was open and widespread, and regularly denounced by civic reformers such as Washington Gladden of Columbus, Tom L. Johnson of Cleveland and Samuel M. Jones of Toledo.
As flagrant as vote-buying was in the big cities, on a percentage-of-the-electorate basis, it was far more extensive in the hardscrabble counties of southern Ohio, which were almost entirely white and agricultural.
The best-documented case of all is from November 1910 in Adams County, home of white burley tobacco. Following that election, 1,690 men – 26 percent of the voting population – were found guilty of buying and selling votes.
As early as 1885, the practice was flourishing. "So entrenched was the employment of boodle that Adams County electors regarded it as rightful compensation for time spent going to the polls," wrote Genevieve B. Gist. Her study, "Progressive Reform in a Rural Community: The Adams County Vote Fraud Case," appeared in the June 1961 edition of The Mississippi Valley Historical Review.
Before each election, the two political parties "determined by canvass the amount of money required to win an election, raised the sum, and then divided it among the electorate. In 1910 prices of votes ranged from a drink of whiskey to $25, the average being $8," Gist wrote. "In the November election of that year an estimated $20,000 was spent in this manner."
Party leaders occasionally attempted a truce to stop the practice, only to cave to pressure from expectant voters. Party leaders found themselves in a Catch-22, finding it difficult to recruit men willing to run for office "since a candidate had to pay into the party coffers a sum equal to a year's salary to aid in financing the boodle," Gist wrote.
Still lacking the vote, women active in the Women's Christian Temperance Union began agitating for reform. They found a willing reformer in Adams County Common Pleas Judge Albion Z. Blair, who admitted past participation in the fraud.
On Dec. 13, 1910, Blair empaneled a special grand jury to examine the previous month's election. He ordered the sheriff to post notices urging the guilty to come forward before arrest warrants were issued.
According to Gist, Blair knew many by name, and his method was informal.
"How about it, John, are you guilty?" he would ask.
"I reckon I am, judge."
"All right, John, I'll have to fine you $25, and you can't vote anymore for five years. And I'll just put a six-month's workhouse sentence on top of that, but I won't enforce it and I'll suspend $20 of the fine as long as you behave."
So it went. "The little village (of West Union) was overrun with penitents who came in one mighty procession," hoping for leniency. One, a 70-year-old Civil War veteran, confessed: "I know it isn't right, but this has been going on for so long that we no longer looked upon it as a crime."
The spectacle attracted national attention, including a front-page story in the Christmas Day 1910 edition of The New York Times.
Blair imposed tougher financial penalties on the affluent. Some appealed their five-year voting bans. But on March 7, 1911, the Ohio Supreme court upheld their constitutionality.
The November 1911 edition of McClure's Magazine carried an article written by Blair: "Seventeen Hundred Rural Vote Sellers: How We Disenfranchised a Quarter of the Voting Population of Adams County, Ohio."
Columbus native Michael F. Curtin is formerly a Democratic Representative (2012-2016) from the 17th Ohio House District (west and south sides of Columbus). He had a 38-year journalism career with the Columbus Dispatch, most devoted to coverage of local and state government and politics. Mr. Curtin is author of The Ohio Politics Almanac, first and second editions (KSU Press). Finally, he is a licensed umpire, Ohio High School Athletic Association (baseball and fastpitch softball).