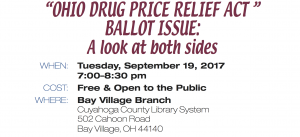 "Ohio Drug Price Relief Act" ballot issue. A look at both sides
forum moderated by Jeremy Pelzer, Cleveland.com
Tuesday September 19, 2017 7-8:30pm
Free & open to the public
Bay Village Branch, Cuyahoga County Library System
502 Cahoon Rd. 44140
RSVP here   Forum flyer is here
Preview is here
Post forum summary is here
The video is here

Panelists
Scott Knoer, Chief Pharmacy Officer, Cleveland Clinic (WITHDREW FROM PANEL)
J. B. Silvers, Ph.D. Case Western Reserve University Weatherhead School of Management and School of Medicine
Matt Borges, Campaign Manager, Ohio Taxpayers for Lower Drug Prices
Dale Butland, Communications Director, Ohioans Against the Deceptive Rx Ballot Issue
Moderator: Jeremy Pelzer, Cleveland.com
The Ohio Drug Price Relief Act, a citizen-initiated statute slated for the November ballot, would require the state of Ohio to pay no more for prescription drugs than the U.S. Department of Veterans Affairs. And, regardless of how you plan to vote, it could end up being the state's most expensive ballot-issue campaign ever, according to political analysts and observers.
This forum will have arguments on both sides of this ballot issue and a representative from CWRU Weatherhead/Medical School to further debate this complicated subject.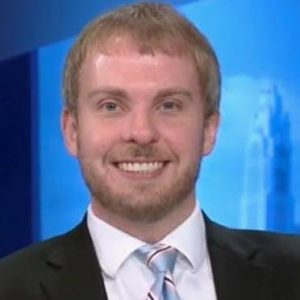 Jeremy Pelzer
Co-sponsored by the Case Western Reserve University Siegal Lifelong Learning Program, League of Women Voters-Greater Cleveland, Cleveland.com and Plain Dealer and the Cuyahoga County Public Library System
Corporate sponsor: First Interstate Properties, Ltd. 
For more information, email: teachingcleveland@earthlink.net