October 29, 1950 column by Philip Porter, Plain Dealer endorsing County Charter reform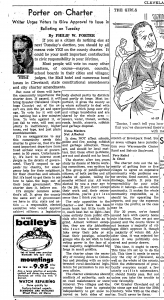 Plain Dealer columnist Philip W. Porter endorses 1959 Cuyahoga County Charter reform. The creation of an elected official and body of representatives that would assume many of the responsibilities of the local cities and townships.
It lost in November 1959…both Cleveland and many suburbs voted against it.