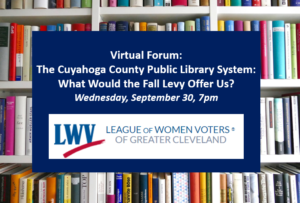 The Cuyahoga County Public Library System: What Would the Fall Levy Offer Us?
Online Forum: Wednesday Sept. 30 / 7:00 – 8:15 pm
It's on the 2020 election ballot. If approved, the 1-mill tax increase will mean an additional $35 in annual property tax on each $100,000 of home value in the 47 communities served by the CCPL.
Speakers will review current and proposed CCPL services, background on CCPL funding, and how the issues are seen by various community interests.
Sponsored by the League of Women Voters of Greater Cleveland