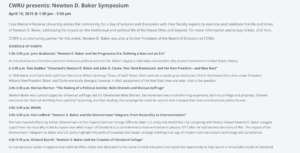 Lectures by John Grabowski, Tom Suddes, Marian Morton, Ken Ledsford and Richard Baznik
▶ Newton D. Baker and the Progressive Era  Defining a Man and an Era – John Grabowski – YouTube
▶ Cleveland's Newton D. Baker and John H. Clarke  Two Gold Democrats – Tom Suddes – YouTube
▶ The Making of a Political Activist  Belle Sherwin and Woman Suffrage – Marion Morton – YouTube
▶ Newton D. Baker and the Zimmerman Telegram  From Neutrality to Intervention – Ken Ledford – YouTube
▶ Newton D. Baker and the Creation of Cleveland College – Richard Baznik – YouTube
A DAY AT THE UNIVERSITY:
THE LIFE AND LEGACY OF NEWTON D. BAKER

Sunday, April 19
1:30–5 p.m.
Tinkham Veale University Center
Cost: $45
REGISTER HERE
The community is invited for a day of lectures and discussion with faculty experts to examine and celebrate the life and times
of Newton D. Baker, addressing his impact on the intellectual and political life of Northeast Ohio and beyond.

SCHEDULE OF EVENTS
John Grabowski
1:30–2:00 p.m.
"Newton D. Baker and the Progressive Era: Defining a Man and an Era"

with John Grabowski
An introduction to a formative period in American political and civic life.  Baker's legacy is intimately connected to this pivotal movement in United States history.
Read Dr. Grabowski's essay about "Cleveland in 1912"
---
Tom Suddes
2–2:45 p.m."Cleveland's Newton D. Baker and John H. Clarke: Two 'Gold Democrats' and the New Freedom—and New Deal"
with Tom Suddes
In 1896 Baker and Clarke both split from Democrat William Jennings "Cross of Gold" Bryan. Both went on to attain great distinction, first in Northeast Ohio, then under President Wilson's New Freedom. Baker and Clarke eventually diverged, however, in their assessment of the New Deal. How and why—that is the question.
Read Dr. Suddes essay: "Newton D. Baker: Cleveland's Greatest Mayor"
---
Marian Morton
2:45–3:30 p.m."The Making of a Political Activist:  Belle Sherwin and Woman Suffrage"
with Marian Morton
Newton Baker was a proud supporter of woman suffrage, but for Clevelander Belle Sherwin, the movement was a transforming experience.  Born to privilege and propriety, Sherwin overcame her "natural shrinking from publicity" by joining, and then leading, the campaign for votes for women that changed their lives and American politics forever.
Read Dr. Morton's essay: "How Cleveland Women Got the Vote – And What They Did With It"
---
---
Ken Ledford
3:45–4:30 p.m.
"Newton D. Baker and the Zimmermann Telegram: From Neutrality to Interventionism"

with Ken Ledford
The ham-handed efforts by Arthur Zimmermann of the Imperial German Foreign Office to deter U.S. entry into World War I by conspiring with Mexico helped Newton D. Baker navigate a path from his neutrality in the European war while mayor of Cleveland to a commitment to interventionism in January 1917 after he had become Secretary of War.  The impact of the Zimmermann Telegram on Baker and U.S. policy highlight the perils of insulated and insular strategic thinking in an age of modern communications technology and surveillance.
Read this wonderful story about Newton D. Baker as Secretary of War: "Recollections of Secretary Newton D. Baker" by FQC Gardner
---
Richard Baznik