Brent Larkin Writes about Lonnie Burten Jr.
cleveland.com  11/16/2016
The full article is here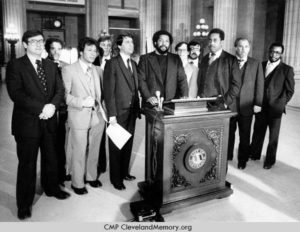 Councilman Lonnie Burten (center, with beard-Press Collection)
Excerpt below:
It was late morning on Nov. 29, 1984, when Jackson, David Donaldson and Sam Johnson were watching Councilman Lonnie Burten single-handedly tear down his boyhood home on East 38th Street in Cleveland's Central neighborhood.
The home had been firebombed, most likely by some thugs who wanted to teach the crusading Burten a lesson.
Now city inspectors wanted the house demolished. And Burten, as was his way, was determined to do it himself.
"I remember this distinctly," recalled Jackson, sitting at a table in his City Hall office. "Lonnie was standing next to a truck. We were talking, when he put his hands on the hood and laid his head on the truck."
The friends gently put Burten in the back seat of a car and rushed him to St. Vincent Charity Hospital.
It was too late.
Lonnie Burten — Cleveland City Council's rebel with a cause, a legend who came to power by defeating one of the shrewdest men to ever hold elected office in Cleveland (Charlie Carr), and who several years earlier had come within a whisker of unseating the most powerful council president in city history (George Forbes) — was dead of a heart attack at the young age of 40.
Burten's seat on council went to Preston Terry III. Jackson, a lawyer with a job in the council clerk's office, had no interest in it.
"I just wanted to help Lonnie," recalled Jackson. "That was it. He was my friend. We shared a passion for life and an understanding of the situation we were in. I had no inclination for a life in politics, none whatsoever."
Like all mayors, Jackson has his shortcomings. But he will never forget where he came from.
Nor will he forget one of the best friends he's ever had.
"You don't have many friends in life. You have people you know. Lonnie was a friend. And if he had not died, I would have not been a councilman, let alone a mayor."