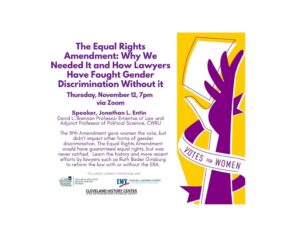 The Equal Rights Amendment: Why We Needed It and How Lawyers Have Fought Gender Discrimination Without it
Jonathan L. Entin, David L. Brennan Professor Emeritus of Law and Adjunct Professor of Political Science, Case Western Reserve University
Thursday, November 12, 7pm via Zoom
The videos here:

Gender-based distinctions used to pervade American law. The ratification of the Nineteenth Amendment gave women a constitutional right to vote, but did nothing to disturb other forms of gender discrimination. The Equal Rights Amendment would have guaranteed equal rights regardless of sex, but was never ratified. This program will examine the historical background of gender distinctions in the law and more recent efforts by lawyers such as Ruth Bader Ginsburg to reform the law with or without the ERA.
Zoom RSVP here:
https://cwru.zoom.us/webinar/register/WN_yhNoIuuGQ86ACD22VrG_sQ
Free
Made possible with a generous donation from Lin Emmons.
Sponsored by Cleveland History Center, CWRU Laura and Alvin Siegal Lifelong Learning, League of Women Voters-Greater Cleveland