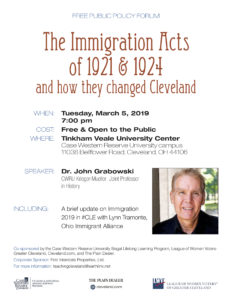 "The Immigration Acts of 1921 and 1924
and how they changed Cleveland"
The video from the forum is here:

The flyer is here
Dr. John J. Grabowski, CWRU Krieger-Mueller Joint Professor in History
with a brief update on Immigration 2019 in #CLE by Lynn Tramonte, Ohio Immigrant Alliance
The growth of major industrial centers such as Cleveland was made possible in large part by the migration of peoples of a variety of origins to provide the labor or entrepreneurial skills demanded by the changing economy. 
The Immigration Acts of 1921 and 1924 prohibited large-scale immigration and provided quotas that discriminated against Southern and Eastern Europeans. Given the chaos in Europe following the war, it is justifiable to assume that the "new immigration" would have continued unabated had not restrictions been put in place. Despite problems in Europe, and particularly persecution in the Nazi German state, relatively little migration to the U.S. and Cleveland took place from 1914-45.*
Dr. Grabowski will talk about the multi-decade impact of the severe reduction of immigration on Cleveland's development. We will also provide an update on current immigration policy. Is history repeating itself?
*Encyclopedia of Cleveland History
Tinkham Veale University Center, CWRU Campus
11038 Bellflower Road, Cleveland OH 44106
Free and open to the public
Co-sponsored by the Case Western Reserve University Siegal Lifelong Learning, League of Women Voters-Greater Cleveland, Cleveland.com and The Plain Dealer
Corporate sponsor: First Interstate Properties, Ltd.