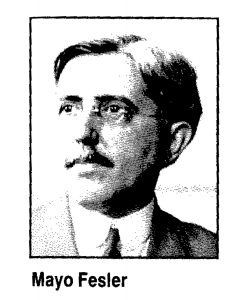 "The Scourge of Corrupt and Inefficient Politicians": The Citizens League of Greater Cleveland
By Marian Morton
Cleveland's self-styled enemy of "corrupt and inefficient politicians"1 was born in 1896, inspired by what its founders considered the disastrous state of local politics. For more than a century, fueled by righteous anger and empirical data, the league tackled big and small challenges, winning some battles and losing others.
The Cleveland organization, originally called the Municipal Association, took its cue, as well as reforms like municipal home rule and a professional city manager, from the National Municipal League. This organization, later the National Civic League, was established in 1894. Its concern: American cities, their governments designed for smaller, more homogeneous populations, were overwhelmed by rapid, unplanned growth and the difficulties of absorbing an enormous influx of European immigrants. The serious depression that began in 1893 exacerbated these problems, creating widespread unemployment and political unrest. The results: political bosses and machines, patronage, mismanagement, and disorder. The league's founders included some of the Progressive era's leading lights, including Teddy Roosevelt, later President of the United States, and Louis D. Brandeis, later U.S. Supreme Court Justice. Like other Progressive reformers, these men believed that professional direction and scientific principles could solve urban political problems. The association held its first national meeting in Cleveland in 1895.
Clevelanders quickly followed suit. Appalled and indignant at the open corruption and mismanagement of the mayoral administration of Republican Robert McKisson, a group of city leaders gathered in the office of Harry A. Garfield, son of the assassinated President James A. Garfield and professor of law at Western Reserve University. He had also served on the National League's executive board. "It was obvious," the group believed, "that the Augean stables, which was the government of the city, needed thorough cleaning."2 The Cleveland Municipal Association was then organized, the second municipal association in the United States. It described its members as "nonpartisan … in the normal meaning of the phrase" – that is, they were both Republicans and Democrats but placed the interest of the city before that of party – and as "civic leaders of the community in the noblest sense of the term."3
Almost all were businessmen like William and Samuel Mather, John Sherwin, or Tom L. Johnson, associated with the city's leading industries or commercial establishments, plus a few professional men – academics like Garfield, H.W. Bourne, professor of history at Western Reserve College for Women, and lawyer Frederic C. Howe. The group also included a handful of prominent Jewish men: Rabbi Moses J. Gries, Martin A. Marks, and Morris A. Black, who became the group's second president. All were white.
Quite logically, they believed that if political institutions operated like efficient businesses with well-informed men like themselves at the helm, all would be well. "To promote businesslike and efficient conduct" in government was their goal. 4Quite logically too, they were never critics of free enterprise capitalism and never endorsed even the mild "gas and water socialism" – that is, municipal ownership of utilities – advocated by reformers like Johnson and Howe, both of whom soon became disenchanted with the group.
1 The Citizens League of Cleveland, 1896-1946: Fifty Years of Critical and Constructive Service ( Cleveland: Citizens League of Cleveland, 1946), 3.
2  The Citizens League, 2
3  The Citizens League, 3
4  75 Years of Doing Good: The Citizens League of Greater Cleveland, 1896-1971 (Cleveland: The Citizens League of Greater Cleveland, n.d.), 7.
The Municipal Association's first challenge was to defeat McKisson's 1897 re-election bid. The association's publications made no explicit recommendation, or condemnation, of his administration, but simply laid bare the facts, at least as members saw them. McKisson won. Two years later, the association took off the gloves and distributed thousands of handbills urging his defeat and charging, "City Government [Is] a Disgrace." "A corrupt political machine is in power in Cleveland. The first duty of the voter is to crush it."5 The association also staged a "splendid and enthusiastic" meeting at Gray's Armory to rally the faithful to the cause of good government. Banker J.W.G. Cowles decried "machine" politics as "the voice of the devil."6 McKisson lost.
Defeating Tom Johnson was a different matter. Although Johnson had been a founding member of the association, his single tax ideas and belief in municipal ownership of utilities made him suspect when he ran for mayor of Cleveland in 1901: "[The association] cannot recommend Mr. Johnson because it is not prepared to advocate the theories advanced by him; and because, to the minds of some of its members, Mr. Johnson thinks less of Cleveland and its welfare than of the demonstration of a theory and the pursuit of higher political honors." The association endorsed his opponent in 1903; did recommend Johnson in 1905; and in 1907, again endorsed his opponent, Theodore E. Burton. Johnson won every time. In 1909, Herman C. Baehr got the association's nod for mayor and handed Johnson his final defeat.7 Johnson later described the Municipal Association as "… supposed[ly] … distinctly nonpartisan and above the influences of Privilege" and pointedly commented that "city government belonged to the business interests generally …. The campaign funds came largely from business men who believed in a 'business men's government,' and who couldn't or wouldn't see that there was anything radically wrong with the system."8
The association did not make another recommendation for a mayoral candidate until 1989 although it continued its policy of doing research, providing information, and making recommendations for candidates for city, county, and state offices, sometimes Democrats and sometimes Republicans. In 1909, for example, the association recommended seven Republicans and three Democrats for Cleveland City Council after reviewing the credentials of 63 candidates. Here are two recommendations: "[Democrat] THOMAS B. FLOWER, present member of the city council. Mr. Flower's work in the council has disclosed that he is a man of ability and is qualified for the office. …. [Republican] THOMAS W. FLEMING, lawyer and proprietor of a barber shop …. Is regarded as intelligent and trustworthy and of sufficient ability for service in the council."9 Fleming was the first African American to be elected to Cleveland City Council but in 1929 went to jail for corruption in office.
In 1910, Mayo Fesler became director of the association, a position he held until 1945 except for the years, 1917 to 1923. Under his direction, the association became the Civic League in 1913 and then the Citizens League in 1923. By 1971, it had become the Citizens League of Greater Cleveland, an acknowledgement that by then most of its members lived outside the city. (It will be referred to hereinafter as the CL or "the league.") In 1913, Fesler organized the City Club of Cleveland, an organization still committed to free and open political debate. When he died in 1945, Fesler was eulogized as "one of the most ardent fighters for the cause of good government in Cleveland's history."10 On his watch the league would establish itself as a force for successful political reform.
Chief of these successes was home rule for the city of Cleveland, advocated by many Progressive reformers including Johnson. Johnson called it "the most pressing of all civic problems."11 The league explained home rule as the right of cities "to frame their own charters and legislate for themselves in
5  75 Years of Doing Good, 3-4.
6  Cleveland Plain Dealer, March 29, 1899: 1.
7  75 Years of Doing Good, 9.
8  Tom L. Johnson, My Story (Kent, Ohio and London, England: Kent State University Press,1993), 171, 114.
9  Cleveland Plain Dealer, October 29, 1909: 4.
10  75 Years of Doing Good, 32.
11 Johnson, 148.
strictly local affairs," free from the "constant interference from the state capitol" that had made local governments "pawns in the game of state and national politics." State governments, sometimes corrupt, passed "unintelligent and irresponsible legislation" for cities, the league charged.12 Home rule, in contrast, would bring the city's government closer to its citizens and more accountable to them.
Fesler had come from St. Louis, which had home rule, and aided by Newton D. Baker and A.R. Hatton, a political science professor at Western Reserve University, Fesler prepared and distributed a pamphlet, "Constitutional Home Rule for Ohio Cities." The men then helped to organize the Ohio Municipal League in 1912. Their lobbying of the General Assembly got a home rule amendment on the ballot, and it was approved by Ohio voters in September, 1912.13
The league put together a slate of candidates to re-write Cleveland's charter. Baker, then mayor, was named the group's chairman, and Fesler, its secretary. The new charter provided for a mayor-council form of government, both to be elected on a non-partisan basis for two-year terms. The CL sponsored meetings around the city to educate voters, and the new charter, approved in July 1913, also included initiative, referendum, and recall, all popular Progressive reforms. In 1914, Cleveland's became the first municipal home rule charter in Ohio. 14 The league proudly took credit: "Municipal Home Rule Is Citizens League Baby," crowed the league's history.15
In 1916, the CL became a forceful advocate for a city manager form of government. This appealed to the league and other Progressives because it placed important administrative responsibilities in the hands of an efficient nonpartisan expert instead of a partisan mayor likely to distribute jobs to his political cronies. Cleveland voters approved the city manager plan in 1921. In 1924, city council chose William R. Hopkins as city manager; he was replaced in 1930 by Daniel Morgan. In 1923, the city experimented with the first of five elections to city council by proportional representation, another structural reform that was supposed to make council more representative and less corrupt.
By the 1920s, Baker had parted ways with the CL, which in 1916 had recommended a "no" vote on a bond issue to support Baker's signature achievement as mayor – a municipally owned light plant. A legacy from Johnson's administration, the plant began operation in 1914. The league argued that since financial reports for 1915 and 1916 had not been made available, there was no way for a voter to know whether or not "the plant is a paying investment."16 Baker, however, claimed that the public facility had expanded its customer base and saved Clevelanders money in its first years of operation.17
Moreover, according to Baker's biographer, C.H. Cramer, Baker had come to believe that party responsibility, not nonpartisanship, was essential to good government. Consequently, he had little faith in proportional representation or the city manager form of government. "Baker was certain that it was personnel who were important, that good government came from good men rather than by experimentation in the forms of government."18
Baker seemed to have won the argument, for neither the city manager nor proportional representation ended corruption. Republican boss Maurice Maschke and Democratic boss W. Burr Gongwer found other ways to divide up the city jobs,19 and it was business as usual at City Hall. In addition, proportional representation voting was complicated, and vote-tallying was confusing and time- consuming.
12  Cleveland Plain Dealer, January 21, 1912: 11.
13  75 Years of Doing Good, 12.
14  David D. Van Tassel and John J. Grabowski, eds., Encyclopedia of Cleveland History (Bloomington and London, Indiana University Press, 1996), 534-5.
75 Years of Doing Good, 11.
Cleveland Plain Dealer, October 26, 1916: 3. Van Tassel and Grabowski, 717.
18 C.H. Cramer, Newton D. Baker: A Biography (Cleveland and New York: World Publishing, 1961), 60-61. 19 Van Tassel and Grabowski, 801.
Cleveland politicians and voters were disgusted and dismayed, and the league had to fight off efforts in 1925, 1927, 1928, and 1929 to repeal one or both reforms. The economic and political disorder of the Depression was the last straw, and voters repealed both the city manager and proportional representation in 1931.20 Cleveland returned to a popularly elected mayor and ward-based voting.
The league had found an unlikely ally in its battle for city manager and proportional representation: the League of Women Voters (LWV). "Unlikely" because the Municipal Association, and then the Civic League, had expressed no interest in or support for woman suffrage although individual members like Baker, Howe, and Johnson counted themselves suffragists. In 1894, Ohio women had won the right to vote for and sit on school boards, and the association, and then the league, advised women what men to vote for but seldom recommended women for office. "The law enabling women to vote at school elections had for its purpose the introduction of a purifying element in the election of school officials," the association reminded Cleveland women, urging them not to vote for a candidate "backed by the worst class of politicians … and professional ward workers."21 In 1902, an angry woman protested that "the Municipal Association is a self-constituted, self-perpetuating body of men whose opinions do not count for any more than any other good citizen's opinion."22 Even though the CL did campaign for constitutional amendments such as home rule, it did not endorse the woman suffrage amendments on the Ohio ballot in 1914 and 1917. (Both amendments lost.) Although women were allowed to go to "splendid and enthusiastic" public meetings sponsored by the league, they were not permitted to attend the league's annual meetings until spring 1920, as the 19th (Woman Suffrage) Amendment was on the verge of passage by the states.23 In 1923, the league rewrote its constitution, now encouraging "competent men and women [italics in the original] to stand for public office."24
Despite this cavalier treatment, the LWV, founded in 1919 to persuade women to become educated voters, generally found itself on the same side of most issues with the Citizens League. One major difference: LWV never endorsed candidates.
During the first decades of the twentieth century, the farsighted CL championed many reforms later achieved: a smaller Cleveland City Council, voter registration, and lowering the voting age to 18. The league also lobbied the Ohio General Assembly for civil service laws for local, county, and state offices and protested an apportionment system that advantaged rural over urban counties.
Much of its success derived from its Governmental Research Institute, established in 1943. Its publications over the next five decades hammered home the league's familiar structural reforms for the city and county. The institute's financial support from local government, foundations, and individuals also raised crucial funds for the league. Publications included "Civil Service Personnel in the City of Cleveland" (1949), "Voting Machines for Cuyahoga County" (1948), "The Sewerage Problem in Cuyahoga County" (1952), "Of Time and Traffic and How to Move About More Easily in Cleveland" (1956) , and "Ohio's Apportionment and Subdistricting" (1963).
The league's "Analysis of the Cleveland Municipal Electric Light Plant" (1964) advised Mayor Ralph Locher that the plant was wasting tax payers' money, that its rates to customers should be raised, and the money funneled into the city's general fund. Locher argued, as had Baker and Johnson, that the public facility provided a necessary "yardstick" by which the rates of the Cleveland Electric Illuminating
20 Marian J. Morton, "It Was the Worst of Times, It Was the Worst of Times: Cleveland and the Great Depression," http://www.teachingcleveland.org/index.php?option=com_k2&view=item&id=845:it-was-the-worst-of-times-it- was-the-worst-of-times-cleveland-and-the-great-depression-by-marian-morton
21  Cleveland Plain Dealer, March 24, 1900: 5.
22  Cleveland Plain Dealer, March 12, 1902: 2.
23  Cleveland Plain Dealer, April 12, 1920:13.
24  75 Years of Doing Good, 19.
could be measured. The league remained un-persuaded and urged the city to sell the public plant to the private utility.25
During the 1950s and 1960s, the institute did the research on city finances for Mayors Anthony Celebrezze, Locher, and Carl Stokes that underpinned their requests to the voters to raise city taxes. Its 1964 study of tax policies pointed out that Cleveland's upper and middle classes had left the city, taking their tax dollars with them, leaving a population in need of greater services and a city with fewer funds to provide them. The study suggested an income tax on money earned in the city, regardless of where the taxpayer lived – that is, a regional income tax such as is now in place. Simultaneously, the institute suggested ways that the city might save money, becoming "a watchdog for economy," according to the Cleveland Plain Dealer.26
In 1967, one-time league president and long-time supporter of its reforms, Seth Taft mounted an historic campaign for mayor of Cleveland. Republican Taft, grandson of U.S. President William Howard Taft, faced off against Democrat Carl Stokes, narrowly losing the race that made Stokes the first African American mayor of a large American city. Taft then served as Cuyahoga County Commissioner, 1971-1978, a reminder of the league's still-viable political presence.
Both Democrats and Republicans valued CL endorsements because of its nonpartisan reputation and its large membership: it claimed 5,200 members in 1975.27 Dennis Kucinich, then a league member, got its recommendation in his 1967 run for councilman in Cleveland's Ward 7 when he was still a 21- year-old student at Cleveland State University. When he was elected mayor, however, Kucinich, ran afoul of the league. In 1978, It again urged the sale of Cleveland's Municipal Light Plant.28 Kucinich's refusal to sell drove the city into default and nearly cost him a recall election.29 (The election had been made possible by the CL's "baby," home rule.)
Perhaps with Kucinich in mind, CL executive director Blair R. Kost later said, "You would have to hold your nose for some people we've preferred [the league did not use the term "endorse" although it was commonly understood that's what "preferred" meant] … There are times when a candidate only
has a few qualifications but is the best in the race." Regardless, the league's "preferred candidates" won about 90 percent of the time.30
According to a poll done for the county Democratic Party, voters rated the league endorsement as the second most influential factor in picking the mayor. In 1989, the league broke an 80-year precedent and "preferred" County Commissioner Tim Hagan and City Council President George Forbes over several other candidates in the nonpartisan mayoral primary. One of the not-preferred candidates, then-State Senator Michael R. White, responded angrily: "It is a sad day in Cleveland that the Citizens League could endorse a political scoundrel like George Forbes. I'm sure the founders of the Citizens League are turning over in their graves." White beat Hagan in the primary to run against – and beat- Forbes in the general election for mayor.31 At least in this case, the league endorsement had lost its influence.
The Research Institute continued to provide policy-makers with valuable data. As Cleveland attempted to repurpose itself as a "come-back city" and a tourist destination, the institute published "Public Opinion About Public Affairs in Greater Cleveland, 1988-1990:" Greater Clevelanders were optimistic about the city's future, they liked the new downtown projects such as Tower City and Gateway, they believed that the city's image was improving but realized that the city's public schools
25  Cleveland Plain Dealer, September 30, 1964:7; November 12, 1964: 6.
26  75 Years of Doing Good, 30-31.
27  Cleveland Plain Dealer, June 20, 1956: 6.
28  Cleveland Plain Dealer, December 3, 1978:135.
29  For the decades-long, politically divisive conflict between Cleveland Electric Illuminating and the municipal light plant, first called Muny Light and now Cleveland Public Power, see Van Tassel and Grabowski, 717-719.
30  Plain Dealer, May 23, 1982: C1.
31  Plain Dealer, September 12, 1989: 1.
were a serious problem.32 The George Gund Foundation and the Cleveland Foundation funded the institute's 1992 report and recommendations on the Cleveland public schools' financial emergency. 33After a disastrous primary election in June 1992 that triggered investigations by the F.B.I. and the Cuyahoga County Prosecutor, among other agencies, the institute was asked to assess the county's Board of Elections and make recommendations; the institute produced a bulletin, Reforming the Elections Process in Cuyahoga County (1992), that advocated hiring a director who would "run the office as a business and not as a patronage hiring hall for the local political parties."34
The league's most enduring battle was county-wide metropolitan government, or what the league initially called "county home rule" for Cuyahoga County, a restructuring to replace the hodge- podge of dozens of suburban governments, that fostered the league's sworn enemies, inefficiency and corruption. "Cities, villages, and school districts have developed in great numbers about the rim of the larger cities until there is confusion of authority, absence of direct responsibility in administration and a great waste of public funds," proclaimed its January 1917 Bulletin. "No Man Is An Island" became the League "clarion call."35 Although the specific plans for county reorganization have varied, in general, the league has advocated the "consolidation of various jurisdictions into a scientifically managed regional government" that would be stronger, more efficient, cheaper, and free of corruption.36
The league failed to get the necessary county home rule amendment on the state-wide ballot in 1917, but undismayed, lobbied the Ohio General Assembly for an amendment in 1919, 1921, 1923, 1925, 1927, 1929, and 1931. In 1933, the league got the amendment on the ballot by petition, and the amendment was approved by voters in the fall. An elected commission drew up a charter approved by a county-wide majority in 1935. Fearing for their jobs, elected officials took the charter to the Ohio Supreme Court, which declared it unconstitutional because it had not received a majority in all the areas outside of the largest city and in a majority of the municipalities and townships.37 Votes on a charter commission failed in 1936 and 1941.
As suburban outmigration accelerated after World War II, however, the time seemed ripe for another effort. Voters approved a charter commission in 1949 but turned down the charter itself the next year, defeated, according to the league, by county officials, the mayor of Cleveland, and "provincial-minded suburbanites."38 Throughout the 1950s, the league organized supporters, did studies, issued reports, and drew up its own version of a new simplified charter for county government. A more complicated charter was turned down by the voters in 1959.39 City voters were told that the new county government would raise their taxes; suburban voters feared loss of their autonomy. Efforts at reforming county government failed in 1969, 1970, and 1980. Cleveland's ethnic and racial groups feared they would lose hard-won political power.40 In the meantime, however, there was movement toward centralization as Cleveland turned over its hospitals to the MetroHealth System, its zoo to the MetroParks and its transit and sewer systems to regional authorities.
In 2002, Brent Larkin, Plain Dealer editorial director, celebrated the league's achievements: "It brought home rule to Ohio, successfully championed one-man one-vote apportionment, fought for open government, secured election law reform and was the first group to call for reduction of the size of
32 Citizens League Research Institute, Public Opinion About Public Affairs in Greater Cleveland, 1988- 1990,(Cleveland: Citizens League of Greater Cleveland, October 1990), 1.
33 Citizens League Research Institute, Responding to the Cleveland Public Schools Financial Emergency: A Report to the Cleveland Board of Education and Superintendent" (Cleveland: Citizens League of Greater Cleveland, June 1992).
34  Plain Dealer, January 5:1993:6B.
35  75 Years of Doing Good, 19.
36  Van Tassell and Grabowski, 850-852.
37  75 Years of Doing Good, 20.
38  75 Years of Doing Good, 20
39  75 Years of Doing Good, 20
40  Van Tassell and Grabowski, 850-852.
Cleveland City Council from 33 to 21 members." But he also lamented its diminishing influence and ailing finances as its research institute competed less successfully for funds with local universities. The league's acting executive director conceded, 'We need to have a better idea of what we want to be." Larkin advised the league to find a "charismatic" leader and a "compelling cause."41
Instead, the CL in 2004 made still another stab at reforming county government, allied this time with the county Republican Party. The newest plan called for replacing the three county commissioners with a county executive and an 11-member council. The alliance failed to collect enough valid signatures to put the issue on the ballot, local business leaders withdrew their support, and the drive collapsed. So did the Citizens League; it had failed to pay its executive director for months.
In July 2008, FBI raids on the Cuyahoga County Administration Building, the homes of public officials, and the offices of private companies uncovered the most corrupt administration in the county's history. The scandal spread outward into suburbs, courts, school systems, the Cuyahoga Metropolitan Housing Authority, and MetroHealth Hospital. Although dozens of smaller fish got caught in the federal net, the real targets were top county officials: County Commissioner Jimmy Dimora (Public Official 1) and County Auditor Frank Russo (Public Official 2), both also powers in the county Democratic Party. Both subsequently went to jail.
After months of subpoenas, arrests, trials, and imprisonments, disgusted voters in November 2009 did approve a new county government with a chief executive and 11 elected representatives, similar to league's latest plan. And although defunct, or at least dormant, during this period of county crisis, the CL, the self-styled "scourge of corrupt and efficient politicians," might have claimed a hollow victory in having said – for decades – "We told you so." More positively, when Cuyahoga County government was re-constructed, the league might have taken credit for its decades of laying the groundwork for change.
In spring 2010, even as the wide-spread corruption continued to make headlines and the new county government took shape, the Citizens League of Greater Cleveland was reborn: new leadership, same goals – "integrity and efficiency" – achieved the same way: candidate evaluation and structural reform. 42
Talk of the kind of structural reforms that the CL has long urged – eliminating the duplication of public services and governmental entities – is still in the air. Its advocates now call it regionalism and point out that it would be efficient and save money. This is the argument used by the CL for decades, and should be an appealing one, since in 2014, Cleveland and the county's suburbs and cities are strapped for funds, thanks to the collapse of property values in the recession of 2008 and a General Assembly in Columbus that is reluctant to share public funds. But as Joe Frolik has pointed out, the league's proudest creation, the home rule amendment that gives autonomy to Ohio cities, towns, and suburbs, is the mightiest obstacle to regional government, the league's most cherished cause. 43 And as it has for decades, voters' deep loyalty to place or political position may well count for more than promises of a more efficient, less expensive government.
41 Plain Dealer, August 4:2002: 4.
42 www.thecitizensleague.org.
43 http://www.teachingcleveland.org/index.php?option=com_content&view=category&id=50&Itemid=124