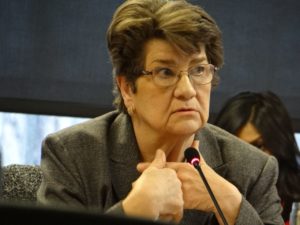 State Senator Peggy Lehner tells the state school board Tuesday she hopes legislators will be cautious in making quick changes to the state's private school tuition voucher program. (cleveland.com 1/14/2020)
Voucher/EdChoice in Ohio January 2020
1. Read what LWV Schools advocate Susie Kaeser wrote:
Diversion of Ohio school dollars to non-public schools has become a raging river. It must stop: Susie Kaeser
Op-ed on January 10, 2020 cleveland.com
2. Read more about Vouchers and EdChoice in Ohio in these articles:
Change To Exploding Voucher Program Likely Coming, But Time Is Running Out
by Karen Kasler, Statehouse News Jan 17, 2020
Do vouchers need a big "fix" or a small one? Legislature leaves two weeks to decide
by Patrick O'Donnell 
With Feb. 1 deadline looming, Ohio House seeks to change school voucher program
by Laura Hancock, cleveland.com
Expansion of Ohio's EdChoice voucher program puts state's complicated school funding formula in spotlight
by Todd Dykes WLWT Cincinnati

by Karen Kasler WKSU
by Anna Staver Columbus Dispatch
Heights Schools Ask For Help Fighting Voucher Program Losses
The Cleveland Heights-University Heights School District lost $4.2 million to voucher deductions in 2019, one school official said.
By Chris Mosby, Patch
By Editorial Board, cleveland.com and The Plain Dealer
Editorial: Revisit rules to make school voucher program more rational
Columbus Dispatch Editorial Board
Increase in private school tuition vouchers is costing districts – and soon you
By Patrick O'Donnell The Plain Dealer
3. More from Susan Kaeser
Voucher Update
Rural and urban interests are frequently at odds when Ohio's lawmakers assert their interests. This division no longer applies to school vouchers.  
Starting with the 2020 school year, every member of the state legislature will represent at least one school district that must use local funds to pay for students to attend a private school under Ohio's EdChoice voucher program. 
Because test scores drive eligibility and scores reflect income, the first victims of the voucher laws were high poverty districts – urban districts.  
But new laws – inserted in the new state budget without public review – made the issue ubiquitous.  In just three years EdChoice districts grew from 39 to more than 400 – two-thirds of the state's 612 school districts. 
The legislature needs to staunch the bleeding of public school budgets by ending the requirement that local districts pay for students they don't educate at the expense of those they do. 
Legislatures can unite on this one! They can freeze the growth of vouchers, change rules defining Edchoice schools, only grant vouchers to students leaving a public school, and starting with this school year, pay for any new vouchers they approved but didn't fund for 2019-20. 
4. Forum video:
"How do school vouchers affect our public schools and taxpayers?" Thursday March 14, 2019. 7:00-8:30pm 
This panel will present information on how Ohio's school voucher policies impact the Cleveland Heights-University Heights schools, as well as other schools in Cuyahoga County and beyond. 
Panelists: Susie Kaeser, LWVO Lobby Corps and Hts Coalition for Public Education 
James Posch, Cleveland Hts-Univ. Hts (CH-UH) Board of Education 
Scott Gainer, CFO/Treasurer, CH-UH City School District 
Meryl Johnson, Ohio State Board of Education, District 11 
Moderator:Jayne Geneva, past chair Lay Finance Committee for the CH-UH Board of Education 
Heights Library Main Branch 2345 Lee Road Cleveland Hts 44118 Cosponsored by Heights Coalition for Public Schools and the CHUH Council of PTAs
5. CALL TO ACTION: LWV-Ohio request
League of Women Voters of Ohio
ADVOCACY WORKS! The legislature is beginning to respond to the backlash against public funds going to private schools. Have you contacted your legislator yet? Click on link