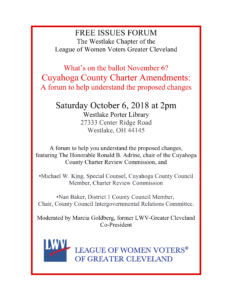 Whats on the ballot Nov 6?


Cuyahoga County Charter Amendments:
A forum to help understand the proposed changes
Westlake Porter Library 27333 Center Ridge Rd, Westlake, OH 44145
featuring
The Honorable Ronald B. Adrine, chair of the Cuyahoga County Charter Review Commission, and other members of the Commission.
Moderated by Marcia Goldberg, former LWV-Greater Cleveland Co-President
Attendees may also verify their voter registration and collect a mail-in ballot application before or after this meeting.