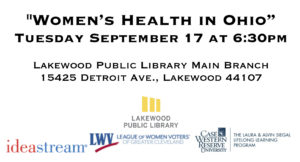 "Women's Health in Ohio
"
Tuesday September 17 6:30pm
with panelists:
Dr. Carla Harwell, University Hospitals
Iris E. Harvey, President and CEO, Planned Parenthood of Greater Ohio
Dr. Amy Hise,  CWRU School of Medicine
Tracy Carter, VP Government Relations, MetroHealth
Moderated by Marlene Harris Taylor WCPN/Ideastream
We'll explore the state of women's health in Ohio and the U.S. today and what can be done to improve it.
Ohio is ranked 32nd in overall health rankings for women (and children), according to a 2018 report published by America's Health Rankings with: *high drug death among women
*low percentage of infants exclusively breastfed for 6 months
*low percentile of publicly-funded health services needs met
 In Ohio, black women are two to three times more likely to die in childbirth than white women while nationwide, American women are 50% more likely to die in childbirth than 30 years ago.
 And while there has been a shift toward including women in clinical drug trials in the last 25 years, there is still a long way to go in terms of robust representation of women. 
(Good news: for the first time since 2004, more women than men applied to U.S. medical schools. Women were also the majority of matriculants (new enrollees) to medical school for the second year in a row)
The statistics can be alarming, but what can be done to reverse these trends and inequalities? What role do our lawmakers play in our heath?   Where do we go from here?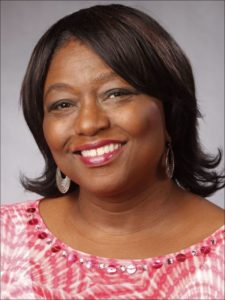 Marelene Harris Taylor, Ideastream
Lakewood Public Library Main, 15425 Detroit Avenue, Lakewood, Ohio 44107
Cosponsored by Ideastream, LWV-Greater Cleveland, CWRU Siegal Lifelong Learning and Lakewood Public Library