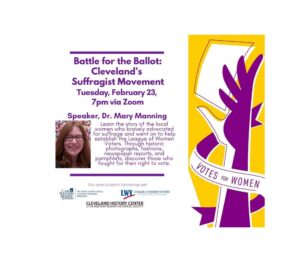 Tuesday February 23, 2021 at 7pm
Battle for the Ballot: Cleveland's Suffragist Movement
A talk by Dr. Mary Manning
Zoom RSVP here:
https://cwru.zoom.us/webinar/register/WN_BERUkSx2S9a5uvwFWrPpCQ
There is no complete record of the brave, often unnamed women who fought for their right to vote and finally triumphed in 1920. In conjunction with the Women & Politics exhibition at the Cleveland History Center, learn about a band of Northeast Ohio women who dedicated themselves to the public interest and grew into an organization that won the respect and confidence of the nation through the photographs, fashions, newspaper reports, and pamphlets they and their opponents left behind. This program will tell the story behind the local women who advocated for suffrage and went on to help establish the League of Women Voters.
Presented by Dr. Mary Manning, Western Reserve Historical Society
Cosponsored by Cleveland History Center, League of Women Voters of Greater Cleveland and CWRU Siegal Lifelong Learning