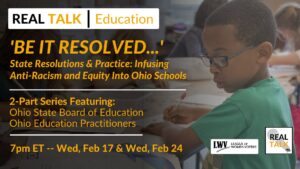 BE IT RESOLVED… State Resolutions & Practice: Infusing Anti-Racism and Equity Into Ohio Schools
7pm ET, Wed, Feb 17 & Feb 24
Register: bit.ly/RealTalk_BeItResolved
FMI: www.RealTalkLWV.org
Join us for a 2-part series examining how to infuse Anti-Racism and Equity into Ohio's Public Schools. Hear from the State Board of Education and the practitioners in Northeast Ohio who drive systemic and student programming.
PART 1: Wednesday, Feb 17 at 7pm
Members, past and present, of the Ohio State Board of Education will walk through the recently adopted 'Resolution to Condemn Racism and Advance Equity and Opportunity for Black Students, Indigenous Students and Students of Color'.
Why the resolution was needed and how it will be implemented across more than 600 public school districts in Ohio.
PANEL: Ohio State Board of Education
Laura Kohler, President
Meryl Johnson, Dist. 11
​Linda Haycock, Dist. 1, Past
Stephanie Dodd, Dist. 9, Past
PART 2: Wednesday, Feb 24 at 7pm
Meet the educators and administrators who are successfully driving innovative student programming, instituting systemic policy changes, and combatting dangerous biases in education. Learn how their proven approaches have impacted student learning, addressed social-emotional health, and bridged opportunity gaps for thousands of students in Northeast Ohio.​​
Opening Speaker: Paolo DeMaria, Superintendent of Public Instruction
Ohio Department of Education
Moderated By: Rick Jackson, Senior Host and Producer, ​ideastream, WVIZ PBS, and WCPN NPR
Produced by League of Women Voters of Akron, Canton, Greater Cleveland, Hudson and Kent