The video is here: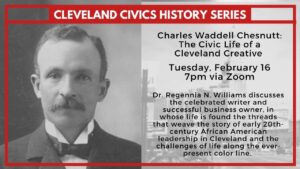 TUESDAY, FEBRUARY 16, 2021 AT 7 PM EST
Charles Waddell Chesnutt: The Civic Life of a Cleveland Creative
A talk by Regennia N. Williams, PhD
Zoom RSVP here:
https://cwru.zoom.us/webinar/register/WN_AUVj1jvvT6Ock1GE0xW9cA
In the life and work of Charles Waddell Chesnutt (June 20, 1858 – November 15, 1932), we find the threads that weave together much of the story of early twentieth-century African American leadership in Cleveland and many of the challenges associated with living life along the ever-present color line.  A celebrated writer and successful business owner, Chesnutt was also known for his activism and reform efforts.  This presentation will consider both his literary life and his work in civic affairs, from the turn of the century through the "New Negro Movement" of the 1920s.
Regennia N. Williams, PhD Distinguished Scholar of African American History and Culture, Cleveland History Center
Cosponsored by Cleveland History Center, League of Women Voters of Greater Cleveland and CWRU Siegal Lifelong Learning