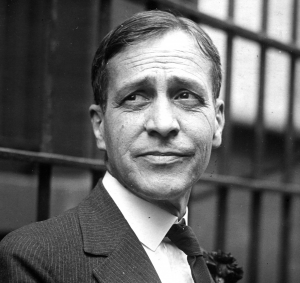 Newton D. Baker at 1924 Democratic Convention
Remarks by Thomas F. Campbell
Upon the Occasion of
NEWTON D. BAKER's
Induction into the City Club's Hall of Fame
May 18, 1987
In 1912 Mayor Newton D. Baker was the principal speaker at
the organizational meeting of the City Club. While he welcomed
the formation of a club devoted to the discussion of municipal
affairs he stressed that the members needed to maintain a nonpartisan spirit in their discussions of public matters. It was
good advice because many other city clubs across the country
withered and died in the arid soil of narrow partisanship.
Yet such advice surprised some Clevelanders because of
Baker's well-earned reputation as a very partisan Democrat. But
they didn't understand that Baker wanted the City Club to become
an educational, not a political, forum. His model was Mayor Tom
L. Johnson's famous tent meetings where, in Baker's opinion,
Clevelanders became the best informed citizens in the country.
Baker, who had studied political economy under Woodrow
Wilson and who was deeply influenced by Thomas Jefferson, shared
their views that democracies could not survive if their citizens
were not well informed on the issues of the day.
When Baker came to this city in 1899, he was quickly drawn
into its social and political reform circles. For several years
he lived and worked as a volunteer in Goodrich Settlement House.
Our present Juvenile Court system, Legal Aid Society and
Consumers League are part of the heritage that Baker and other
social reformers bequeathed to us. But politics was his forte,
and during the first decade of the 20th century Cleveland was in
the foreground of progressive reforms. Baker met Tom L. Johnson
in 1901 and these two transplanted southerners became the leading
spokesmen and architects of a crusade that was to earn Cleveland
a national reputation as the most progressive, best governed city
in the nation.
When Baker became Mayor in 1911, he not only developed the
Municipal Light Plant and a three-cent car fare but he played a
major role in securing a Home Rule Charter that was a model of
its kind. The debates on these first steps toward municipal
independence took place right here at the City Club. Baker
believed that a city should be as noted for its cultural assets
as well as for its municipal waterworks and he got the city to
support a local symphony and fought unsuccessfully for a
municipal university.
In 1916 President Wilson called upon this scholarly
"pacifist" to be his Secretary of War. Within a year Baker was
responsible for organizing an American fighting force of over 4
million and mobilizing our industrial resources to supply them
with munitions and transportation. It was a major tribute to
Baker's administrative and political skills that this massive
mobilization was successfully achieved and without a taint of
scandal.
When the Great War ended in 1918 there were over two million
men in France. Some generals who were of the Grand Old Duke of
York School — he marched them up to the top of the hill, and he
marched them down again — wanted to drill the men until they
fell down with fatigue. Baker had a different and more creative
idea. Influenced by the educational impact of the Johnson tent
meetings, he wanted to give the idle soldiers an opportunity to
study, so he organized the university of the American
Expeditionary Forces. As a result over 141,000 men took
advantage of the fully fledged colleges and correspondence
schools that were set up in France and elsewhere. The sight of
these citizen-soldiers eagerly learning a variety of academic
subjects so impressed Baker that he became in the 1920's a
leading national advocate of adult education programs. He was
the prime force that persuaded Western Reserve University to
establish its famous downtown, but now sadly defunct, Cleveland
College.
In 1921 Baker, financially and physically exhausted after
two decades of strenuous public service, returned to the firm he
had established in 1916. Within a few years the firm, popularly
known then and now as "BakerHostetler" had earned a national
reputation and there is little doubt that Baker would have
immense pride in that firm's continual growth in size and
reputation.
In the remaining 16 years of his life, he continued to
promote the Wilsonian dream of a League of Nations. Indeed, it
was this unrepentant internationalism that destroyed his chances
of securing the nomination of the Democratic Party for President
in 1932. William Randolph Hearst, deadly afraid that Baker might
get the nomination, threw his support to F.D.R.
In the last few years of his life, Baker grew increasingly
uncomfortable with the direction of Roosevelt's policies and
impatient with the arrogance of some New Deal Administrators, yet
he could never desert the Democratic Party even as it appeared to
him to be moving away from the ideals of his own presidential
heroes, Thomas Jefferson and Woodrow Wilson.
As a man of common sense and as an idealist Newton D.
Baker served this city and this nation in an extraordinary
fashion in times of peace and war. Ralph Hayes said of Baker
when he died on Christmas Day 1937 that for forty years Baker had
been to this municipality, counselor, guide, and friend. That's
why we honor him tonight."