Category:
Cleveland Politician Interview Series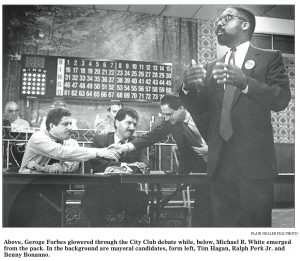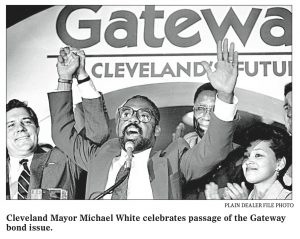 Michael R. White was Mayor of Cleveland from 1990-2002. He was interviewed for Teaching Cleveland Digital on July 24, 2013. Cameras by Jerry Mann and Meagan Lawton, Edited by Jerry Mann, Interviewed by Michael Baron. © 2013 Jerry Mann and Teaching Cleveland Digital.
From Wikipedia:
White, who grew up in Cleveland's Glenville neighborhood, began his political career early on during his college years at Ohio State University, when he protested against the discriminatory policies of the Columbus public bus system and was subsequently arrested. White then ran the following year for Student Union President and won, becoming the college's first black student body leader. He earned a Bachelor of Arts degree in 1973 and a Master of Public Administration degree in 1974.
After college, White returned to Cleveland. He served on Cleveland City Council as an administrative assistant from 1976 to 1977 and later served as city councilman from the Glenville area from 1978 to 1984. During his time in city council, White became a prominent protégé of councilman George L. Forbes. White then represented the area's 21st District in the Ohio Senate, serving as a Democratic assistant minority whip.
In 1989, White entered the heavily-contested race for mayor of Cleveland, along with several other notable candidates including Forbes, Ralph J. Perk Jr. (the son of former Cleveland mayor, Ralph J. Perk), Benny Bonanno (Clerk of the Cleveland Municipal Court), and Tim Hagan (Cuyahoga County commissioner). Out of all the candidates Forbes and White made it to the general election. It was the first time two Black candidates would emerge as the number one and two contenders in a primary election in Cleveland history.
In Cleveland, incumbent Mike White won re-election against council president George Forbes, who ran as the candidate of black power and the public sector unions. Angering the unions by eliminating some of the city's exotic work rules, White presented himself as pro-business, pro-police and an effective manager above all, arguing that "jobs were the cure for the 'addiction to the mailbox,'" referring to welfare checks. [1]
White ended up winning the race receiving 81 percent of the vote in predominantly white wards and 30 percent in the predominantly black wards.
http://en.wikipedia.org/wiki/Michael_R._White
© 2013 Jerry Mann and Teaching Cleveland Digital.

Teaching Cleveland Digital Media by www.teachingcleveland.org is licensed under a Creative Commons Attribution-NonCommercial-NoDerivs 3.0 Unported License.