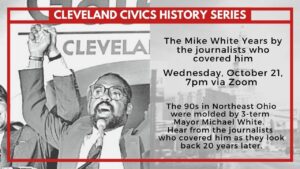 The Mike White Years by the Journalists Who Covered Him
Wednesday, October 21, 7pm via Zoom
with panelists:
Brent Larkin, The Plain Dealer
Tom Beres WKYC-TV (retired)
Leon Bibb, WKYC-TV, WEWS-TV
Moderated by Mark Naymik, WKYC Channel 3 – Cleveland
The recording is here:

The 1990s in Cleveland and Northeast Ohio were molded by 3-term Mayor Michael R. White (1990-2002). Changes to the Cleveland Public Schools, Gateway stadium (and stadiums in general), the Browns, the airport, and many other decisions were made that are impacting the region to this day. Hear from the journalists who covered Mayor White as they look back 20 years later.
Sponsored by Cleveland History Center, Siegal Lifelong Learning Program at Case Western Reserve University, League of Women Voters-Greater Cleveland
Photo: Plain Dealer