Upcoming Live Public Policy Forums
All open to the public
WEDNESDAY, MARCH 10, 2021 AT 7 PM EST
"Suffrage Around the World" w/Dr. Dawn Teele

In the 1880s, women were barred from voting in all national-level elections, but by 1920 they were going to the polls in nearly thirty countries. What caused this massive change? Why did male politicians agree to extend voting rights to women? Contrary to conventional wisdom, it was not because of progressive ideas about women or suffragists' pluck. In most countries, elected politicians fiercely resisted enfranchising women, preferring to extend such rights only when it seemed electorally prudent and in fact necessary to do so.
Dr. Dawn Teele will offer an examination of the tumultuous path to women's political inclusion in a number of countries highlighting that broad movements across social divides, and strategic alliances with political parties in competitive electoral conditions, provided the leverage that ultimately transformed women into voters.
Dr. Dawn Teele holds a B.A. in Economics from Reed College, and a Ph.D. in Political Science from Yale University. 
Cosponsored by CWRU Department of Political Science, CWRU Siegal Lifelong Learning and League of Women Voters of Greater Cleveland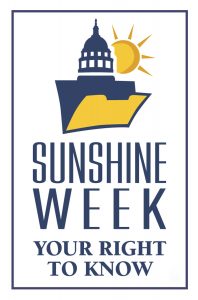 Tuesday March 16 at Noon
Join Gary Daniels ACLU of Ohio during #SunshineWeek for a training focused on Ohio's Sunshine Law and how to do a public records request.
RSVP here
Cosponsored by Common Cause Ohio and League of Women Voters of Ohio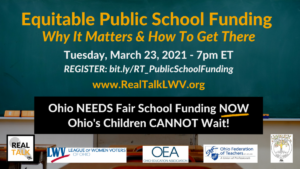 Equitable Public School Funding NOW: Why It Matters and How to Get There
Tuesday, March 23, 2021 – 7pm ET
Learn how the FAIR SCHOOL FUNDING PLAN will provide an equitable, comprehensive, transparent funding model that will change the face of public education across Ohio.
Learn how YOU can help!
RSVP here
More info:
www.RealTalkLWV.org
Moderated By: John Patterson, Former State Representative (D-Jefferson)
Featured Guests:
State Representative Jamie Callender (R-Concord), District 61
State Representative Bride Sweeney (D-Cleveland), District 14
Ryan Pendleton, Chief Financial Officer/Treasurer, Akron Public Schools
Marlon Styles, Jr, Superintendent, Middletown City School District
Claudia Zaler, Superintendent, Waverly City Schools
Tom Hosler, Superintendent, Perrysburg Schools
Sponsored by League of Women Voters Ohio, Ohio Education Association, Ohio Federation of Teachers, and Ohio PTA

TUESDAY, MARCH 23, 2021 AT 7 PM EDT
"Cultural and Political Sources of Cleveland's Great Cultural
and Civic Institutions"

On March 23 at 7pm, join David Hammack, CWRU Hiram C. Haydn Professor of History Emeritus, who will speak to this theme:
Why is Greater Cleveland home to so many notable private institutions? The Cleveland Orchestra and the Cleveland Museum of Art both make persuasive claims to be among the very best in the United States. University Hospitals and the Cleveland Clinic give the region two nationally-notable medical systems. The city's religious and nondenominational social welfare charities have for more than 100 years been national leaders in raising money and developing effective responses to new challenges. University Circle constitutes a university-cultural district surpassed by just a handful of cities in the United States. This lecture will explore the cultural, economic, and political sources of the region's extraordinary private institutions.
Cosponsored by CWRU Siegal Lifelong Learning, Cleveland History Center and The League of Women Voters of Greater Cleveland

FRIDAY, APRIL 16, 2021 AT 12:30 PM EDT
Two Events w/Professor Paula Giddings
1. City Club of Cleveland: Missing from History: Black Suffragists and the Right to Vote (Virtual Forum)

Friday, April 16, 2021
Moderator: Dan Moulthrop, CEO, The City Club of Cleveland
The livestream will be available beginning at 12:30 p.m. Have questions? Tweet them at @TheCityClub or send a text to 330.541.5794.
2. April 16 at 4pm-5pm
Virtual Q&A w/ Professor Paula J. Giddings will answer your questions about her books, scholarship and advocacy
Moderated by Emmy award-winning journalist, Sia Nyorkor, Channel 19 News 
Paula J. Giddings is Elizabeth A. Woodson 1922 Professor Emerita of Africana Studies, Smith College, author, "Ida: A Sword Among Lions"
Last year, the United States commemorated the 100th anniversary of the ratification of the 19th Amendment. Women and men of all races, ethnicities, and identities fought for—and against—women's right to vote. The national movement that led to the women's right to vote is not only a story about women's rights, but is also an American story of race, class, citizenship, gender, immigration, political identity, and values.
Paula J. Giddings, the Elizabeth A. Woodson 1922 Professor Emerita of Africana Studies at Smith College, is known for her writings on the complicated history of Black women in America, including Ida: A Sword Among Lions, the award-winning biography of anti-lynching activist Ida B. Wells. 
Cosponsored by City Club of Cleveland, Delta Sigma Theta, League of Women Voters of Greater Cleveland, and more orgs.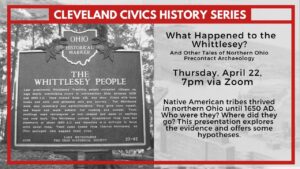 Thursday April 22, 2021 at 7pm
What Happened to the Whittlesey? And Other Tales of Northern Ohio Precontact Archaeology
A talk by Brian G. Redmond,
Curator and John Otis Hower Chair of Archaeology, Cleveland Museum of Natural History
One of the most interesting problems for those who study the archaeology of northern Ohio has to do with the apparent out-migration of Native American societies after A.D. 1650. Known to archaeologists as the "Whittlesey" and "Sandusky" traditions, these late precontact groups thrived along the rivers and lakeshore of northern Ohio then apparently left the area virtually unoccupied for almost a century. Who were these people? Where did they go? Why did they leave? Who did they become at the dawn of written history? This presentation will discuss the archaeological and ethnohistorical evidence bearing on these questions and offer some hypotheses as to the ultimate fate of the last indigenous people of northern Ohio.
Cosponsored by CWRU Siegal Lifelong Learning, Cleveland History Center and The League of Women Voters of Greater Cleveland