Upcoming Live Public Policy Forums
All open to the public
*********************************************************

FRIDAY, APRIL 16, 2021 AT 12:30 PM EDT
Two Events w/Professor Paula Giddings
1. City Club of Cleveland: Missing from History: Black Suffragists and the Right to Vote (Virtual Forum)

Friday, April 16, 2021
Moderator: Dan Moulthrop, CEO, The City Club of Cleveland
The livestream will be available beginning at 12:30 p.m. Have questions? Tweet them at @TheCityClub or send a text to 330.541.5794.
2. April 16 at 4pm-5pm
Virtual Q&A w/ Professor Paula J. Giddings will answer your questions about her books, scholarship and advocacy
Moderated by Emmy award-winning journalist, Sia Nyorkor, Channel 19 News 
Paula J. Giddings is Elizabeth A. Woodson 1922 Professor Emerita of Africana Studies, Smith College, author, "Ida: A Sword Among Lions"
Last year, the United States commemorated the 100th anniversary of the ratification of the 19th Amendment. Women and men of all races, ethnicities, and identities fought for—and against—women's right to vote. The national movement that led to the women's right to vote is not only a story about women's rights, but is also an American story of race, class, citizenship, gender, immigration, political identity, and values.
Paula J. Giddings, the Elizabeth A. Woodson 1922 Professor Emerita of Africana Studies at Smith College, is known for her writings on the complicated history of Black women in America, including Ida: A Sword Among Lions, the award-winning biography of anti-lynching activist Ida B. Wells. 
Cosponsored by City Club of Cleveland, Delta Sigma Theta, League of Women Voters of Greater Cleveland, and more orgs.
*********************************************************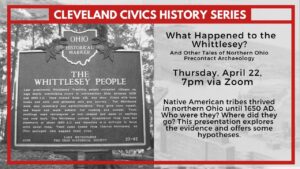 Thursday April 22, 2021 at 7pm
What Happened to the Whittlesey? And Other Tales of Northern Ohio Precontact Archaeology
A talk by Brian G. Redmond,
Curator and John Otis Hower Chair of Archaeology, Cleveland Museum of Natural History
One of the most interesting problems for those who study the archaeology of northern Ohio has to do with the apparent out-migration of Native American societies after A.D. 1650. Known to archaeologists as the "Whittlesey" and "Sandusky" traditions, these late precontact groups thrived along the rivers and lakeshore of northern Ohio then apparently left the area virtually unoccupied for almost a century. Who were these people? Where did they go? Why did they leave? Who did they become at the dawn of written history? This presentation will discuss the archaeological and ethnohistorical evidence bearing on these questions and offer some hypotheses as to the ultimate fate of the last indigenous people of northern Ohio.
Cosponsored by CWRU Siegal Lifelong Learning, Cleveland History Center and The League of Women Voters of Greater Cleveland